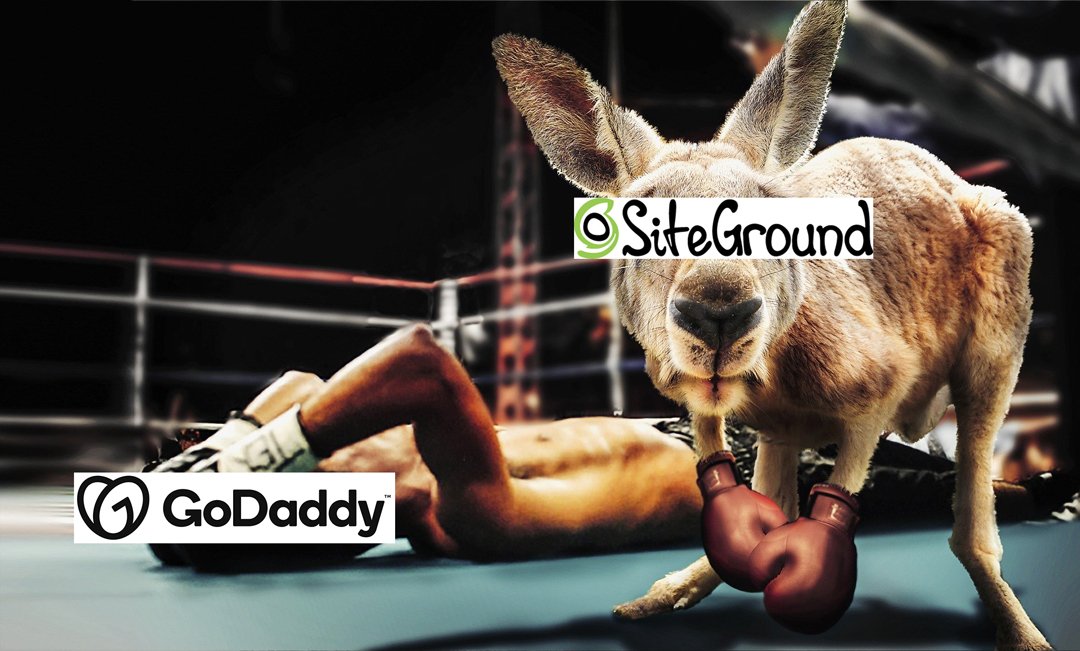 SiteGround vs GoDaddy Hosting
Marcus Zeal
This post may contain affiliate links, which means I may receive a commission if you click a link and purchase something that I have recommended. Thank you!
Creating a WordPress website for your business or personal creative endeavor is the most effective way to get your content to an audience. WordPress is a platform that is used by millions of website owners around the world and has ever-expanding functionality. The only things you need to get started are a domain name and web hosting.
Finding the best-managed WordPress hosting means the difference between a hassle-free experience and an ordeal of lost time and regrets. Luckily, when deciding between SiteGround and GoDaddy for managed hosting of your WordPress site, there is a clear winner.
Before I go any further, I am obligated to let you know that I am a SiteGround affiliate… I also work for a company that sells hosting via GoDaddy though… So no matter which option you ultimately choose, there's a chance that it benefits me in a very small monetary way. That said, GoDaddy is garbage. If your only take away from this article is "GoDaddy is garbage, I should buy SiteGround", I'd be a happy camper. :)
What is Managed Hosting for WordPress?
Different levels of website hosting exist for all types of webmasters. The type of hosting you choose for your website depends on the degree to which you are willing to roll up your sleeves and get your hands dirty.
If you're technically versed and have the time to devote to managing your WordPress installation, you may choose dedicated hosting. Alternatively, you may choose shared or reseller hosting. Both of these require less work than a dedicated server but you will be called upon to manage WordPress.
The most obvious difference between your hosting options will be what your dashboards look like. In a typical shared hosting or reseller hosting plan you may end up with a cPanel interface. CPanel was great 10 years ago, but times have changed. On a managed hosting platform, you sacrifice access to cPanel in exchange for simplicity, consistency, and reliability.
Managed hosting is a done-for-you service that takes care of all technical aspects of running and maintaining WordPress. Although WordPress is a very intuitive platform, the list of tasks needed to run such a website can be lengthy. Assigning the management of your WordPress hosting to a reliable provider gives you peace of mind. It also allows you to focus on the things that matter to you. For most people, this includes offline business tasks and content creation.
SiteGround and GoDaddy are two of the biggest players in the web hosting space. A side by side comparison will help you choose the managed hosting provider that's best for you. That being said, no more small talk. Let's get into the thick of it.
What Does Managed Hosting of Your WordPress Site Include?
Managed hosting of your WordPress site covers speed and performance, security, daily backups, guaranteed uptime and scalability. It also includes WordPress updates so that you don't have to keep an eye out for important upgrades or implement them yourself.
Perhaps the best part of your managed hosting plan is the premium support. With other types of hosting packages, even though support reps may be available all hours of the day, you may still have to do some troubleshooting yourself. Not with managed hosting.
WordPress-specific managed hosting means that the rep on the other side of the call or chat is an expert on the platform. No flipping through documentation or Googling unknown concepts while you hold on the line. The importance of this cannot be understated in the event of a web hosting emergency.
We'll be judging SiteGround and GoDaddy on all of these factors in order to determine which provider will allow you to maintain your website hassle-free.
Ease of Use
Both SiteGround and GoDaddy hosting providers are easy to use. Both of their managed WordPress solutions have their own way of doing things, and they're both extremely straightforward. GoDaddy, however, does not have the support to back you up should you run into any problems along the way. Whereas, SiteGround absolutely does.
That being said, it is possible to install a WordPress website in GoDaddy in far fewer clicks than SiteGround. The reason for this is that GoDaddy's platform was built specifically for people who don't want or need any additional options. Unfortunately for GoDaddy, this "simplicity" comes back to bite you later. However, when first getting started, GoDaddy does offer an easier off-the-ground experience.
SiteGround gives you a few more options, much better support, and when you've finished installing WordPress offers a plugin (automatically installed) that will do nearly all of your server-side related tasks for you.
Performance and Features
GoDaddy is known for being a domain registrar; the biggest in the world, in fact. That's why the company can offer a free domain with each hosting plan. In terms of features, this can seem like an attractive offer for those on a tight budget. However, as you will see below, the free domain does not cover the disparity in pricing with its competitor.
SiteGround devotes a large part of its business model to cater to WordPress users. The decision for managed hosting hinges on how well each provider can fulfill your needs. Let's look at what each hosting company provides.
SiteGround Features
SiteGround is an official partner of WordPress.org. This means that the company has immediate access and familiarity with any developments in the content management system. As a matter of fact, WordPress.org recommends SiteGround due to the many WordPress tools the hosting provider has developed specifically for users of the content management system.
SiteGround also offers free SSD drives on all its shared hosting packages. Its servers are powered by the latest caching technology for seamless operation of your website. You get a free SSL certificate to secure your website and make transactions with your users safe and reliable.
Hosting plans with SiteGround come with a 30-day money-back guarantee so that you can make an informed decision that isn't rushed.
GoDaddy Features
As with SiteGround, GoDaddy customers get a free SSL certificate. You get one-click install of many free WordPress applications, albeit not many for e-commerce. A 30-day money-back guarantee is offered in case you change your mind.
Site Speed
Cache
Caching is also essential to getting great SEO results while giving your visitors an optimal user experience. It's the ability to store website data on a user's hard disk so that it can be loaded faster on a subsequent visit. Whether through static or dynamic caching, SiteGround makes sure your visitors spend the absolute minimum time waiting for your page to load.
On the other hand, the first thing you encounter when Googling a keyword like 'GoDaddy hosting cache' is forum threads where people are trying to resolve caching issues. This may be because GoDaddy blacklists cache plugins, in effect making you use their own system. Because of this, it's safe to say that caching isn't one of GoDaddy's strengths.
Collaboration Tools
Collaboration tools are important for working on projects in a decentralized environment. These tools include any type of application that allows a team to piece together its work into a finished product.
Both SiteGround and GoDaddy offer adequate options as a part of their hosting if you are in need of collaboration tools. SiteGround, in particular, has a specific section in their client area with specialty tools that are great for agencies as well as freelance designers and developers.
Someone looking for managed hosting may not be in immediate need of such tools. However, if you ever decide to ship your site to a client or a buyer, you can rest assured that SiteGround has the tools for the task or any other collaborative effort.
Customer Support
It Works With Divi!
This is pretty new, but recently Elegant Themes started a campaign called "Divi Hosting." If you're new here, then you may not know about how incredible the theme Divi is by Elegant Themes. Spoiler: it's pretty darn incredible. Read up on why it's so great in any of my Divi categorized posts here.
But here's the thing, out of the hundreds of WordPress hosting solutions available right now, Elegant Themes made a list of 3 that they say are "Divi-compatible." What does this mean? Well, Divi will work on any hosting… mostly… but it's a big theme. If the hosting environnment is not up to snuff, then the Divi-powered website will be suuuuuuper slow. That's actually a huge complaint about Divi in some circles.
Of those three hosting providers, guess which one of our two made it on that list? That's right – it wasn't GoDaddy. GoDaddy sucks. It was SiteGround – obviously.
Best Return on Investment
Though GoDaddy offers a free domain as part of their hosting packages, this is more like cheese on a mousetrap. Unless you catch them on a generous special offer, you will end up paying more for your hosting in total than if you simply purchased a hosting plan and domain from SiteGround.
For the quality of service, security, and other benefits you will enjoy, SiteGround offers the highest return on investment. Their staff is knowledgeable in all areas of WordPress hosting and their technical features will allow you to build a successful website.