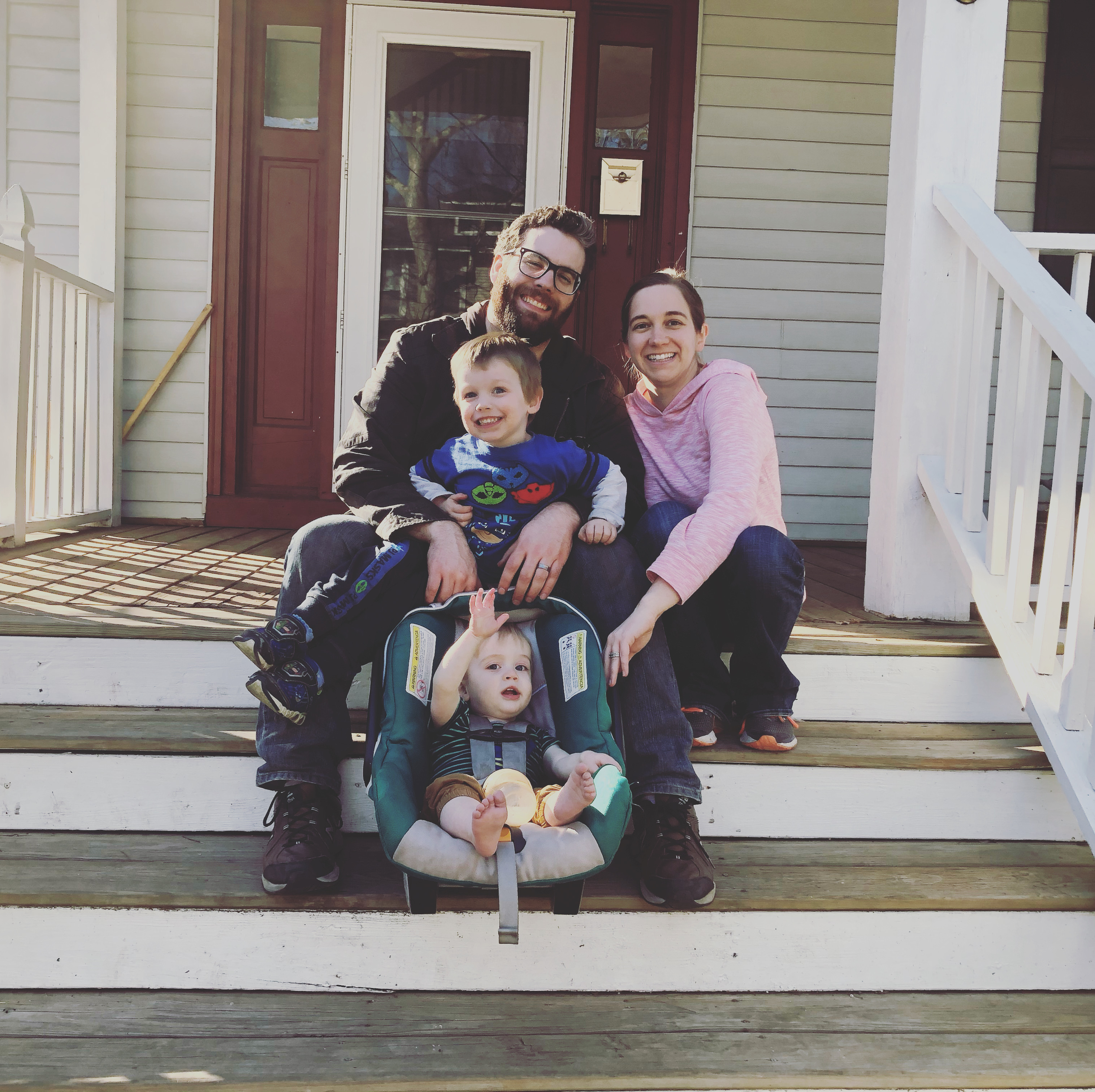 We're Moving! (Update)
Marcus Zeal
This post may contain affiliate links, which means I may receive a commission if you click a link and purchase something that I have recommended. Thank you!
This is a "Daddy Blog" categorized post, which means two things.
I didn't proof it.. like at all..
It's not going to give any professional advice or anything relevant if you don't know me or care about our story.
Our Going Away Party Was A Success!
Unsurprisingly our going-away party was a huge success! I mean, we're super popular and awesome, so obviously people wanted to come to say goodbye! :D But man, as an introvert, this was not my favorite thing to do in the world.
Our friends from work and church all came out to say goodbye. Even the other introverts that I met playing online video games that happen to be local 757 made an appearance! That's saying something… leaving the house is hard for us hermits! :)
The Truck Is Packed!
We decided to go with ABF / uPack for our moving solution.
The way they work is they pull up in a semi-truck with a big trailer, drop that semi-trailer off and you pack as much of it as you need. Then you call them to have them come pick it up and drive it to your destination.
Honestly, Vicki did all the research on this one, but we used these guys back when we moved from Illinois to Virginia and really liked the results. So far, we're loving the results again today, 8 years later.
If you're moving cross-country, and don't want to drive a big truck yourself, I'd recommend these guys. They were super helpful on the phone, and the truck driver that dropped off the trailer was super cool!

We packed our 17 feet reaaaal tight.
We had to get pretty creative with how we used the space since we had so much stuff. Our board games and boxes all got Tetris'd to the first 6 feet of the trailer.
Then the rest of our stuff just fit in there the best it could. Couch vertical, kayak suspended in the air, crib strapped to the wall… the whole thing could have been an infomercial for tie-downs and bungee cords…
But it all looks mostly safe, so… it should be okay? We'll see at the end of the week when we go to unload it I guess!
Family To The Rescue!
If it wasn't for my parents coming to visit, I don't know how we could have done it. We had some friends help with the packing, but there's no way we could have got it all done with the kids without my mom and dad there to watch the kids and help carry heavy stuff.
We are definitely hiring help to unpack the truck when we get to Columbus. There's just no way Vicki and I could carry out the couch or washer and dryer or half of the other stuff in the truck. We're just not that buff. :) Luckily for us, it looks like there are lots of options in Columbus for exactly this! So wish us luck there finding the right one!
Our Realtor Is Incredible
MASSIVE shoutout to our Realtor Katie Fussner. She has been helping us every step of the way. We facetimed for the inspection, she called around to check pricing on different things we needed done, and she has just been incredible!
In fact, we'll be doing our final walk-through as a virtual tour via Facetime. The house is about 30 minutes from her office, so her being willing to drive out to the house as often as she has has been a huge blessing.
Saying Goodbye Is Hard
We woke up for the last time in our bed in Virginia at our home on Sunday morning. We went to church at Mission Church for the last time and man was that hard. Every time we see someone we know it's probably the last time we'll see them – maybe ever. There were many hugs and tears, but we made it!
Sunday afternoon we finished loading the truck, threw out all the stuff that didn't fit or we didn't want to move (our mattress included), and said goodbye to our neighbors. Gid is going to miss the little boy that lived next door a lot and we're going to miss that family just as much! Having good neighbors was so nice. I really hope we have neighbors like them in Ohio…
Sunday evening, we stopped for a picture in front of the house, took my parents to the airport, picked up Mexican, and headed to our Airbnb in VA Beach. We'll be here until Thursday…
Working From The Kitchen Table
It's times like these where I think to myself, "Marcus… maybe a laptop would be nice…" But I don't have one yet. So here I am, typing on my keyboard on the kitchen table. I'm down to a single monitor for the week (which is awful by the way), and confined to a single room with the kids and no Netflix.
We close on our house on Friday (if all goes well!) and hopefully by this time next week, I'll be set up in my new office (with doors!!!!).
It's going to be a rough week.