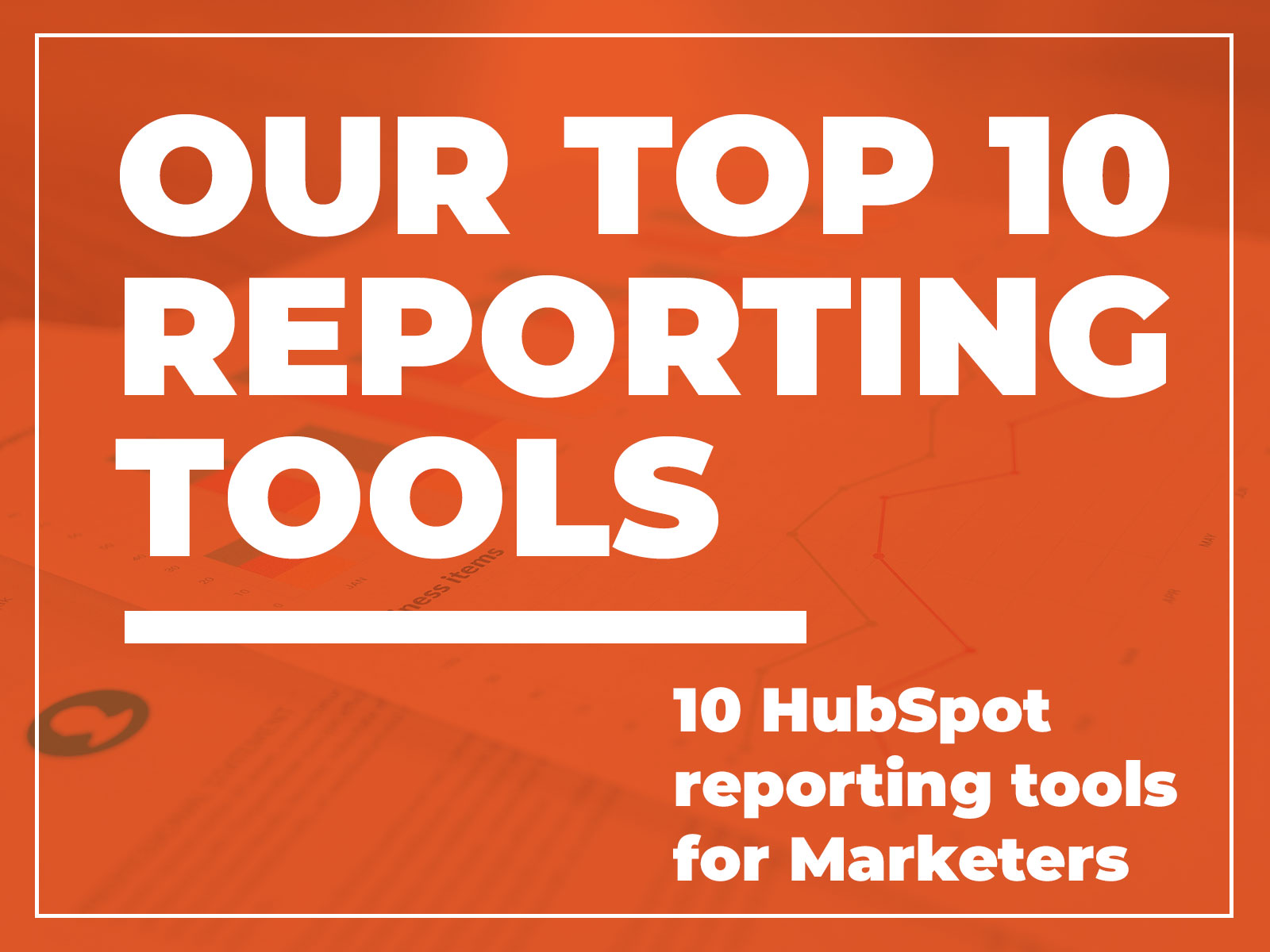 10 HubSpot reporting tools for Marketers
Be it for marketing, sales, or services, HubSpot is one of the top-rated and widely used CRM in the world. It can help businesses grow, especially using the inbound methodology of marketing.
The most crucial aspect of any successful marketing or sales plan is the analysis. You need to know how your website is doing if you want all of your company's assets to thrive. All the effort you put into keeping your business afloat and expanding it must make you curious about the results.
Reporting data and analytics help to connect marketing and business goals. With reporting, you can see your marketing efforts over time. If your data is well-maintained and regularly updated, you can take your company to new heights. HubSpot has its own reporting system with effective tools that can help businesses grow with data and reports.
What is HubSpot reporting?
The purpose of business reports is to provide concise, actionable information about how your company is doing across a variety of critical parameters. HubSpot reporting refers to the process of analyzing your marketing and sales results using HubSpot's in-built reporting capabilities and other solutions.
HubSpot's reporting is used by many marketing and sales teams because it provides an objective assessment of where they stand in relation to their goals and where they may improve. With HubSpot's reporting software, you can make interactive dashboards that incorporate robust analytics from a wide variety of data sources.
Dashboards are a versatile way to convey information to a group while allowing each member to zero in on the data that is most relevant to them. Blog analytics, search engine optimization, and social media mentions of brands are just some of the inbound marketing data that can be monitored with this tool.
Reports, analytics tools, and dashboards are the three primary types of in-built reporting tools available in HubSpot.In this article, you will be able to see 5 reporting tools that are available in HubSpot for marketers and also 5 that can be used on HubSpot.
HubSpot marketing reporting tools
Email reporting tool



To determine which campaigns are most successful, you can use HubSpot's email reporting tool to analyze overall performance. Delivery rate, open rate, click rate, and bounce rate are just some of the metrics that can be quickly gleaned using HubSpot's email reporting tool.



You can quickly set benchmark figures for each email sent with HubSpot, giving you a sense of where you should be performing so you can improve with each subsequent email. You may compare the effectiveness of different email campaigns to hone in on the details that matter most to your audience.


Form reporting tool

HubSpot streamlines the process of generating online leads. You may rest assured that your forms are generating as many leads as they can, thanks to the reports they generate.\

You can keep the leads coming in and make sure you can continuously improve how you capture leads by comparing the forms that perform best in a specific campaign and using that information to inform the type of form you use to engage future audiences or the type of form that works best with specific call-to-actions, such as downloads or newsletter sign-ups.

This HubSpot analysis tool has an easy-to-navigate interface that makes it simple to analyze the effectiveness of different forms. Views, conversion rates, and submissions for all forms can be compared using a custom date range filter, and the data can be further broken down by form type. Landing page forms and pop-up forms are some of the few common types of forms that are used by businesses.


Dashboards

The dashboard is typically the first thing that you see upon signing into your HubSpot account, and it helps the whole team keep track of important performance indicators in one place.

HubSpot dashboards consolidate all of the information you need to track, analyze, and report in one place. Various reports make up your dashboard, providing a graphical summary of your solution's performance in areas such as site traffic, user action, and email open rates. If you'd like to keep your data under lock and key, you may limit who can see your dashboards or make them private.



A dashboard is available in all HubSpot plans, from Basic to Enterprise, and it can be personalized. This basically lets you make reports independently while yet being able to see everything at once.




Revenue attribution reporting

Your marketing's contribution to sales may be quantified with the help of HubSpot's revenue attribution reporting tool. The tool allows you to attribute a certain percentage of revenue to each step taken on the path to a "closed-won" deal, allowing you to attribute a specific sum of money to a particular marketing campaign. Content, distribution methods, and forms of engagement are all included within the marketing campaign. This allows you to reveal the unseen marketing and sales efforts that influenced the outcomes of your deals.

You can generate reports not only on each of the aforementioned actions but also on how much money was made from each source, based on how many people visited your site, and so on.


Ad analytics tool

HubSpot's ad manager makes it simple to monitor the performance of your paid advertising campaigns and direct the traffic you receive. Using HubSpot's ad manager, you can make the most of your advertising dollars and achieve a greater return on investment over time from your paid campaigns.

The whole ad budget and return on investment may be tracked and analyzed with data like impressions, clicks, contacts, and deals. In addition, HubSpot allows you to centrally manage and evaluate all of your advertising accounts, including Google Ads. Using the ads manager, you can also analyze campaigns over unlimited time periods and build an audience from your email subscribers and website visitors to target for future interactions
Reporting tools to be made use of in HubSpot
Google Analytics

In Google Analytics, you may create a personalized report by selecting the data to include, the metrics to use, and the dimensions along which they will be shown. Custom reports are readily available to anyone who uses Google or Google Analytics or who employs a reporting service that integrates with Google Analytics.

In a matter of seconds, you may get an exportable report that you can then share. It also provides a variety of dimensions and metrics from which to construct individualized reports. You can also make folders for your custom reports, so they're easier to find.


Analytics Amplifier

Analytics Amplifier makes it simple to import your HubSpot user contact data into Google Analytics. This tool provides access to information about your contacts in Google Analytics so you may improve your business processes and make more informed decisions.

Lifecycle of deals, deals won, persona set, lead score, number of linked deals, lead status, email unsubscribes, etc., are just some of the object-level data metrics you may access in HubSpot. By importing contact information from HubSpot into Google Analytics, you can see how your contacts and customers interact with your business and gain valuable insights. Reaching out to people who fit the profile of your ideal customer is made easier with the knowledge gained from your reports.


Cyfe

When it comes to keeping tabs on, visualizing, and analyzing your business data, Cyfe is the tool for you. The software is an"all-in-one dashboard" because it allows users to keep tabs on every aspect of their business, from sales to web analytics to social media to customer service.

The domain name, background, logo, and color scheme of your report are just some of the many customization options available to you in Cyfe, in addition to the data from your SQL database that will be displayed on your dashboards. This tool allows you to set standards against which your business's performance can be measured and then have Cyfe send you alerts when those benchmarks are reached.


Supermetrics

Transferring your marketing and sales data to popular platforms like Google Sheets, Microsoft Excel, Google Data Studio, BigQuery, API, Snowflake, and Uploader is a breeze with SuperMetrics. After importing your data into one of these tools, you can refine your reporting using premade templates provided by Supermetrics.

Supermetrics allows you to sort and filter your data so you can see what's working and what may be better. All of your marketing information is displayed and managed in one convenient area. It also facilitates the time-saving automation of marketing report generation and data sharing.


Dear Lucy

Designed specifically for business-to-business transactions, Dear Lucy functions as a dashboard. Select the KPIs that are most important to your team and aggregate them into a unified data dashboard. With this tool, you can exhibit projections based on either your pipeline or your activities on your dashboard to get a sense of your progress toward your objectives.

Using the intuitive drag-and-drop editor, you may rearrange dashboard widgets to provide instant access to the information that matters most to you. Filtering information for reports can be adjusted to suit your group's needs and objectives. You can use the tool to track your progress toward certain objectives by entering data about your activities, revenues, offer base, and hit rate.
Conclusion
Sometimes, making full use of HubSpot for marketing will need help from HubSpot experts. There are many HubSpot CRM specialists who can help you.
Inbound marketers must devote a significant portion of their time to data analysis and reporting. Hubspot's dashboard-style reporting makes it a reliable platform for marketing teams. To sum up, the reports generated by the reporting tools can aid in spotting important market patterns, gaining a deeper comprehension of your clientele, and expanding your organization.