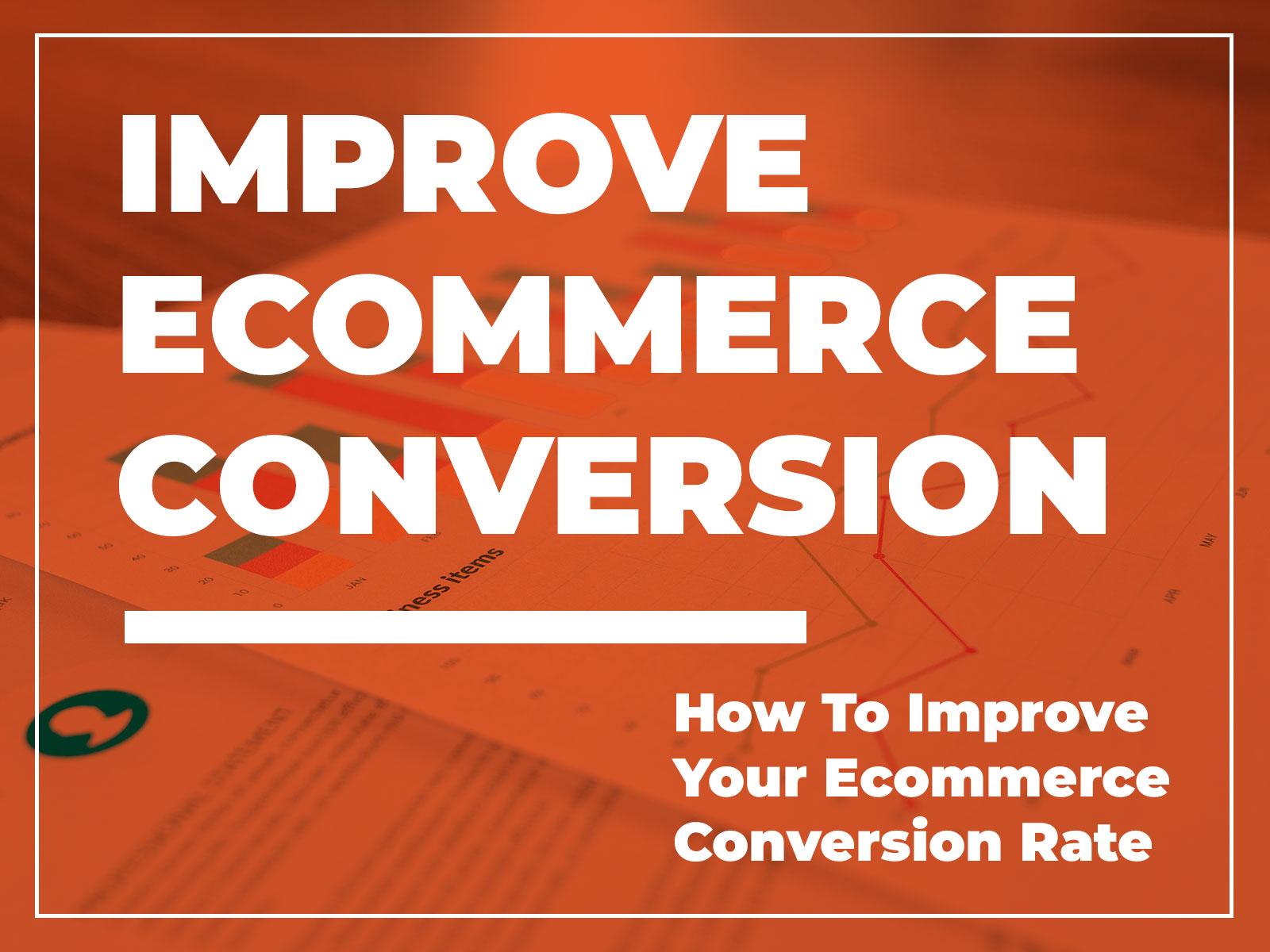 How To Improve Ecommerce Conversion
Searching for an improved eCommerce conversion rate can be never-ending as an online business owner. There's always something you can fine-tune with your website, marketing campaigns, or packaging. Increasing conversion rates helps generate more sales and increase profits for most businesses.
The e-commerce-Conversion Rate has the potential to be the most important metric that you track over your store's lifetime. There are many factors involved when improving your conversion rates, and it can seem like quite a daunting task if it is not approached correctly.
If you are an online retailer, conversions are the lifeblood of your company. If you don't convert visitors into customers, your business may not be around too long. Yet, shopping cart abandonment is an increasingly common problem for online retailers despite that urgency. But how do you improve your eCommerce conversion rate? We'll provide some tips and tricks for improving your conversion rate and making more sales on this page. Keep Reading!
Why eCommerce Shoppers Don't Convert
Before we get into improving your eCommerce conversion-rate, it's essential to understand some of the reasons why potential customers don't convert.
There are many reasons why eCommerce shoppers might not complete a purchase, including:
They were browsing and not looking to buy anything
They found a better deal elsewhere
They got distracted and forgot about their purchase
They didn't trust the website enough to input their credit card information
The shipping costs were too high
Your website was slow or glitchy
The checkout process was too long or complicated


Understanding the above reasons and pointing out a specific one affecting your website will give you a much better chance of fixing the issue and improving your conversion rate.
How to Convert Them
Discussed below are some of the ways to improve your eCommerce conversion-rate:
Reduce The Number of Steps in The Checkout Steps
The average abandonment rate for online shopping carts is 69 percent. That indicates that just 31 people out of every 100 who add products to their cart will finish the transaction. Shopping carts are abandoned for various reasons, but a lengthy or confusing checkout procedure is one of the most common.
If you want to improve your eCommerce conversion-rate, one of the best things you can do is reduce the number of steps in your checkout process. Every extra step you add is another opportunity for customers to get frustrated and give up on their purchase. If possible, streamline your checkout process to be completed in as few steps as possible.
Make Sure Your Website Is Mobile-Friendly

Your website must be mobile-friendly in today's world. With mobile devices accounting for more than half of all web traffic, it's more vital than ever to make sure your site looks great and works effectively on smaller displays.
There are a few things you can do to make sure your site is mobile-friendly:
Use a responsive design: A responsive design is a web design that makes sure your site looks good on all devices, from small phones to large desktop monitors.
Use large, easy-to-click buttons: small buttons can be hard to click on mobile devices, so make sure your buttons are large enough to click on smaller screens easily.
Simplify your design: A complex web design can be confusing on a small screen, so make sure your design is simple and easy to navigate.
Use High-Quality Images
When customers can't physically see or touch the products they're interested in, it's essential to provide high-quality images that give them a clear idea of what they're buying. Studies have shown that product images are one of the most critical factors in conversion-rate optimization. In fact, according to Wishpond, 67% of customers say that the quality of a product image is "essential" in their decision to purchase.
Make sure your product photos are sharp, well-lit, and show the item from multiple angles. You should also include close-ups of any necessary details. If you sell products that come in different colors or sizes, it's helpful to provide photos of each option so customers can see what they're getting.
Write Compelling Product Descriptions
In addition to high-quality images, your product descriptions play an important role in conversion rate optimization. Your product descriptions should be clear, concise, and persuasive. They should give customers enough information to make a well-informed decision, without being so long that they get bored and stop reading.
Your product descriptions should also be keyword-rich to improve your chances of ranking on search engine results pages. However,be beware of keyword stuffing when you cram too many keywords into your text to game the system. It will not only turn off potential customers, but it can also get you penalized by Google.
Provide Accurate and Positive Customer Testimonials and Reviews
Customer testimonials and reviews are other critical factors in conversion-rate optimization. If you want to convert more customers, it's important to provide social proof in customer testimonials and reviews. These can be displayed prominently on your product pages or other website areas. If you don't have any customer reviews yet, reach out to some of your satisfied customers and ask if they would be willing to write a review.
Offer Free Shipping
Free shipping is another great way to increase your conversion-rate. According to ComScore, 70% of shoppers say that free shipping is very important or somewhat influential when deciding whether or not to make a purchase.
If you're not already offering free shipping, consider doing so, mainly if you sell heavy or bulky products. These items can be expensive to ship, so customers are often more likely to purchase them if they don't have to pay for shipping. You can either absorb the cost of shipping yourself or build it into the price of your products.
Provide A Strong Guarantee
Offering a solid guarantee is another great way to increase your conversion-rate and boost customer confidence. Customers who know they can return an item if they are not satisfied with it are more likely to purchase those who don't have that option.
When crafting your guarantee, be as specific as possible. The more extended and detailed your guarantee, the more confidence it will inspire potential customers. And be sure to prominently display your guarantee on your website, so customers know that you're standing behind your products.
Make Simple and Easy Navigation
If you want customers to stick around and buy from you, it's essential to have simple, easy-to-use navigation. Your website should be well organized and easy to navigate, with clear links to your important pages.
Your navigation should be consistent from page to page so customers always know where they are and what they can do. You should also include a search bar on every page so customers can quickly find what they're looking for.
Use Engaging Calls to Action
Your calls to action (CTAs) play an important role in conversion-rate optimization. A CTA refers to a statement or button that prompts potential customers to take a specific action, like "Buy Now" or "Add to Cart."
Your CTAs should be clear, concise, and compelling. They should tell customers exactly what you want them to do, and they should be placed in strategic positions throughout your website. For example, you might include a "Buy Now" button on your product pages, or a "Sign Up" button on your home page.
Enable Shopping Via Social Media Platforms
Allowing customers to shop through social media sites is another excellent approach to boost your conversion rate. Facebook, Twitter, and Pinterest have all evolved into practical selling tools, and more and more businesses are turning to them to market their wares.
If you want to take advantage of this trend, make sure your website is ready to sell on social media. This entails including social networking buttons on your product pages and allowing buyers to share your products with their friends and followers easily.
Finally, tools like FlexClip can be valuable tools for creating engaging content that resonates with your audience and seamlessly fits into your social media marketing strategy.
Provide Customer Support
Finally, don't forget about customer support. If customers have questions or problems, they should be able to reach out to you for help. It could include providing a phone number, email address, or live chat option on your website.
By providing excellent customer support, you can build trust and confidence with your customers. It will encourage them to buy from you again in the future.
Re-engage Cart Abandoners
If a customer has already added items to their cart but then abandons the purchase, there's still a chance to win them back. You can do this by sending them an email reminder that they have items in their cart and that they can complete their purchase at any time.
You can also provide a special offer or discount to encourage them to complete their purchase. For example, you could offer free shipping on orders over $100 or 10% off all items in the cart. By re-engaging cart abandoners, you can boost your conversion rate and increase sales. Some could abandon the purchase due to incompatible payment methods. Ensure you have multiple payment methods and, if possible, allow for customer reviews on the items.
Improving your eCommerce conversion-rate can be challenging, but it's worth it. By following the tips in this article, you can make your website more user-friendly and encourage more customers to buy from you. Remember, always test your changes to see what works best for your business. Good luck!