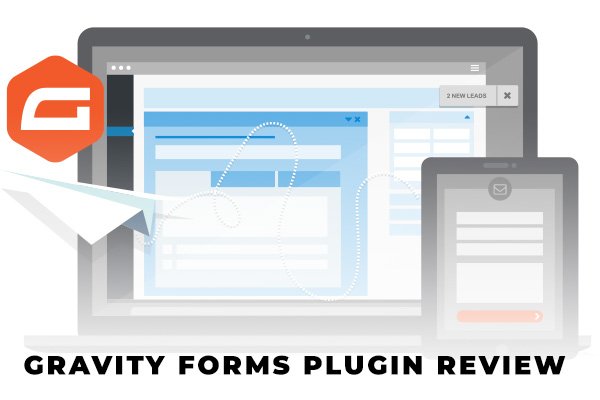 WordPress Plugin Review: Gravity Forms
Marcus Zeal
This post may contain affiliate links, which means I may receive a commission if you click a link and purchase something that I have recommended. Thank you!
Efficient marketing calls for the use of the right call-to-actions and forms. These forms need to be not only straightforward but user-friendly! The right form will drive conversions, sales, and leads on your website. In fact today, you will hardly encounter a website that doesn't have a contact form and that's for good reason.
When you talk about WordPress, you have to remember that there are lots of form builder plugins at play. Taking into account factors such as usability, support, spam protection, reliability, security, and scalability, you soon come to the realization that Gravity Forms is a form builder that you simply can't afford to overlook.
Actually, this is more than your ordinary form plugin. Gravity Forms is best described as an excellent piece of software packed full of possibilities, features, and expandability! Below is an in-depth review of Gravity Forms, which frankly is the best web form builder plugin available today.
Gravity Forms
Millions of WordPress sites rely on Gravity Forms to collect their most critical information. With our easy-to-use, visual form builder, you can create and launch all kinds of forms on your WordPress website. You can build anything such as advanced contact forms, newsletter opt-ins, user registration forms, surveys, quizzes, checkout forms, and more in a matter of minutes.
Plus, Gravity Forms integrates with your favorite 3rd party services like HubSpot, MailChimp, Zapier, PayPal, Stripe, and many more. Gravity Forms is the most trusted WordPress form builder with world-class customer support when you need it. Intuitive enough for a beginner to use, with advanced features that let a developer's imagination run wild. With Gravity Forms, the possibilities are endless.
Who Made Gravity Forms?
RocketGenius developed Gravity Forms and has received recognition as the best premium plugin for a WordPress site. It was launched in 2011 and has in the past 9 years undergone evolution to become a well-rounded product.
Jeff Matson and Carl Hancock, both renowned members of the community, are at the head of this project. Over the years, the two have continuously tried to find new ways to ensure that Gravity Forms is a high-quality form builder plugin.
What Is Gravity Forms?
This WordPress plugin makes it possible for you to build advanced forms via the use of their drag and drop feature. The plugin comes with top-notch features such as advanced spam protection, forms submission limits, and scheduling. Also WordPress Posts Creation & 30+ form fields!
In addition to the features mentioned above, interested developers can continue extending the plugin. There is detailed and insightful documentation in place to help with that process.
Developers can extend current add-ons or even build their own add-ons. Currently, there are tons of both free and premium add-ons available to users, most of which have been developed by third-party developers. It's a unique feature as it's not something that you will ordinarily come across in other WordPress plugins.
Pricing
One factor that makes Gravity Forms unique is that it doesn't provide a free version. But it does provide a seven-day free demo that you can use to test-drive the plugin before taking the plunge and making a purchase.
The premium version starts from a basic price of around $59 per year and scales up to the elite license which retails for around $259 per year. I personally use the Elite license and pay $99/year on my resub. :) I'm not sure if that's still how they do it for new customers or not – but I'll never let this subscription lapse!
Their three extension tiers are Premium, Pro, and Elite. Each comes with varying levels of addons and those are pretty much the only things that differ between the plans. You still get the same great form builder in their Premium plan that you do in their Elite plan. There is no "lite" version of Gravity Forms.
Features
Gravity Forms is filled with all kinds of features, with each having a unique functionality. Some of the functionalities offered by this plugin include:
Form Fields
The plugin brings its users a broad range of forms fields they can easily choose from. It has gone to great lengths to ensure that the fields are properly categorized.
All you need to do is to use the drag and drop feature in your open form builder, provide the additional information requested, and you will be good to go.

Easy to Use Form Editor
Gravity Forms provides a form editor that is simple and easy to apply. The drag and drop feature comes in handy in enabling you to move things around.
Click on any field and start customizing. You can also preview the form once you have done building it prior to publishing it to the web.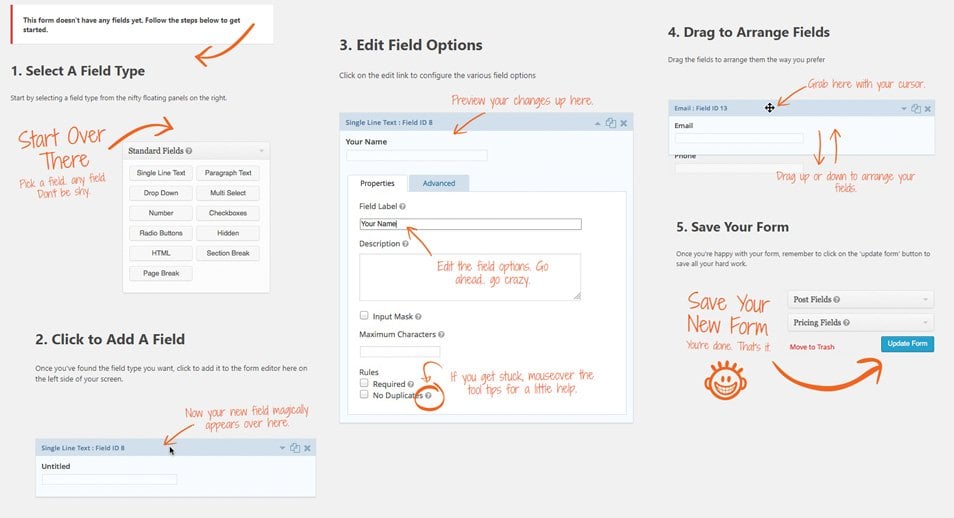 Save & Proceed
When you have this plugin, you're well-placed to start creating elaborate multi-page web forms. A progress bar is present at the top to help you know how far you have advanced.
This means that you can save and at the same time continue filling in your form. If you have enabled the save and continue function, it means any person using the forms can save their progress, and then come back to fill the forms at a later date.
Fight Spam
Another important highlight of this plugin is its ability to fight spam. By now, you probably know how boring and tiresome it is for you to spend a large chunk of your time scrolling through long-form submissions.
Gravity Forms provides a number of ways for you to fight spam:
Really Simple Captcha
Akismet
Google ReCaptcha
Anti-Spam Honeypot

You can opt to enable Akismet spam check with your preferred captcha on the form. Alternatively, you could just opt to use Akismet alone to fight spam.
It's worth noting that captchas in many cases come with a cost—user experience. Therefore, opting to just use Akismet alone to fight spam would greatly enhance the overall user experience. In the long run, this is likely to lead to increased organic form entries.
I personally, use Recaptcha. I think the "I'm not a robot" checkbox is funny and, in my experience, it doesn't cost the user more effort than they're willing to put in. That single ReCaptcha v2 checkbox saves me literally thousands of spam entries across my websites. Akismet is good, but ReCaptcha is free. :) And Free is great!
Powerful Integrations
The plugin is able to seamlessly integrate with many WordPress plugins, online services, and Web applications. All in all, it provides more than 35 integrations. The number of available integrations is often determined by the Gravity Forms package you chose.
While the list itself is quite huge, some of the integrations include:
PayPal
Stripe
Coupons
Authorize.Net
Signature
Some of the really cool stuff that you can be able to do with these integrations will include:
Receive PayPal payments
Upload files to Dropbox using the Dropbox add-on
Use the Survey add-on to conduct Surveys
Create Trello Cards using the Trello add-on
Do pretty much anything you can think of using the Zapier add-on!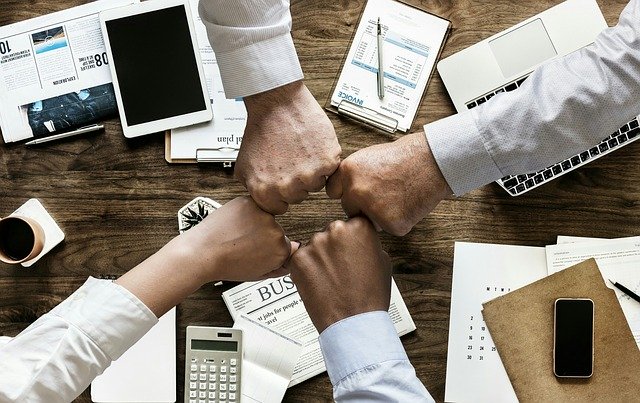 Support
Support plays an instrumental role in the success or failure of any product. Gravity Forms happens to have a very solid support team.
Premium users can expect to have their issues addressed within a 24-hour timeframe. This goes to show just how much the team behind this plugin cares about its customers.
As an elite user myself, I found that my issues are answered and resolved within the same working day in most cases. These guys truly are great!
WordPress Post Creation
When using Gravity Forms, you can also create posts using post fields. This is a feature that helps to create uncountable possibilities.
For instance, you can set up a customized form that you can use to quickly take down your ideas without having to log in.
You could also have a site containing users' listings
You can create an automated testimonial input on your website! Then have that filter into a custom testimonials post type, and be saved as drafts, so you just preview and approve them to go live. :) This is probably the most useful and realistic suggestion.
The plugin provides you with complete control over how you get to manage your post.
Conditional Logic
Conditional Logic is another incredibly powerful feature associated with this plugin. The feature enables the user to hide/show available fields depending on the input submitted by the user in the other fields.
It's a feature that will, without a doubt, come handy when you are trying to collect information from users who happen to have different origins. It's also used intensively when creating things like online resume submission forms.
Additional Features
As mentioned above, this plugin comes with a whole set of amazing features. Some of its additional features include:
Great and insightful documentation on all topics
All its forms are responsive
Some pre-created column style options (although, it would be nice to see more column functionality in the form builder itself)
Ability to receive files in the form submissions
Pass field data as query strings to thank you pages
And so much more …
TLDR
Is Gravity Forms worth your money? Yes. Yes, it is. This plugin is not only easy to use, but it's also quite robust. We at Zealous Sites use it for nearly every website we create and because of it's seamless integration to HubSpot, we can do it without needing to sacrifice anything. I 100% recommend Gravity Forms. You'll love it!